Moving forward with very slow steps with the book I'm following to learn Danish "Colloquial Danish".
It's not a bad or boring book, but the ordinary methods of learning a new language [with books,formal curriculum & courses] don't work well with me, I keep forgetting what I just learned from them!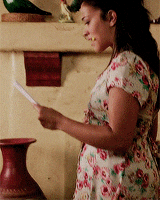 I learn much more from movies, radio & social media. But the ordinary ways are very important [I know
] it's important to learn systematically and understand the grammar and all that.
Specially, that I'm serious about learning Danish and planning to join Folk high school in Denmark next year, so it's not just only because I love Denmark, the Danish culture and the language sooo much. ♥️
So, I should continue with the book and move forward faster.
Anyway, I'm now on chapter 7 and it's called "små problemer – small problems" and there is an interesting exercise that I want to share it with you now.
It's for practicing the various ways of expressing Liking & Disliking in Danish.
Så, her er det:
My Answer is (Mit svar er):
Jeg bryder mig ikke om badminton, faktisk, jeg ved ikke noget om dette sport.

I do not like badminton, in fact, I do not know anything about this sport.
Jeg kan lide bananer og æbler.

I like bananas and apples.
Jeg elsker Amerika, men hader præsidenten.

I love America, but hate the president.
Jeg kan ikke lide bryllupper.

I do not like weddings.
Jeg vældig glad for computere, siden jeg var barn.

I am fond of computers since I was a child.
Jeg bryder mig ikke om sport, især fodbold.

I do not like sports, especially football.
Jeg hader at spise fisk og kød, men jeg er ikke vegetar.

I hate eating fish and meat, but I'm not a vegetarian.
Jeg elsker kaffe, men jeg drikker ikke mere end 3 kopper om dagen.

I love coffee, but I do not drink more than 3 cups a day.
Jeg holder af børn, og jeg har 2 dejlige niecer.

I love kids and I have 2 lovely nieces.
Jeg kan ikke fordrage opera, men elsker klassisk musik.

I can not keen on opera but love classical music.
Jeg er vild med kager, især chokoladekager.

I'm crazy about cakes, especially chocolate cakes.
Desværre, har jeg aldrig smagt rugbrød, men jeg tror jeg kan godt lide det meget.

Unfortunately, I have never tasted rye bread, but I think I may like it a lot.
Note: I'm still a beginner, so my answers probably have some mistakes.
that's all for now.. hej hej 🙂